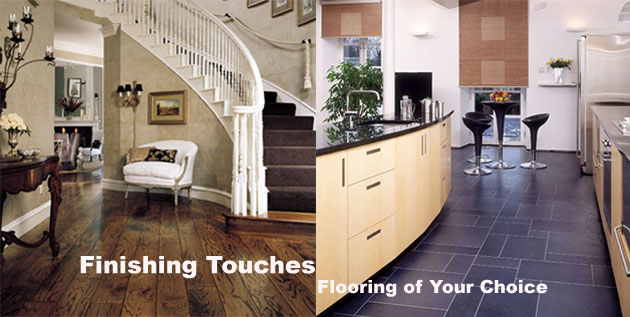 The advantages of different flooring types are discussed below:


Laminate Flooring

Advantages of laminate flooring are:
- It is very cost effective
- Can be practical for cleaning, makes it easier.
- Resistance to damage
No need for glue, staples, most laminate flooring simple clicks into place, making it easier to find that stylish but less hassle free for people who wont that wooden flooring look, without the effort.

Real Wood Flooring

Real wood flooring is well known for the finest looking for solution. Real wood flooring not only gives you a floor covering that looks the part, it also gives genuine character and warmth to a room and adds value to your home. Unlike laminate flooring, real wood flooring not only looks authentic, it is authentic, and the reward for this is more than just superficial.

Tiling

Tiling is good as it is a hard material and water resistant so it makes it easier to clean up when a mess is made. The only problems with the tiles is that it isn't very good to have under foot for a couple of hours, near the sink cleaning, can become dangerous when wet as can become slippery, on the other hand the types that have been unglazed they have better grip, you can also pick a type of tile which can be a firm texture to keep the grip, encase of children running around can have a few accidents if they are well glazed.

Bamboo Flooring

Bamboo Flooring is good as it is resistance to moisture; it is also a very solid piece of wood which is much stronger than most other common woods which are used in the kitchen area. When it is seasoned it can be as tough as rival steel, but the disadvantage of that is when something is dropped on the floor it will break very quickly.

Flooring Accessories

A selection of underlay and damp proof membranes for both laminate and real wood floors. Door bars cover expansion gaps between rooms, at doorways and to provide transitions between different flooring types. Beading and skirting fill the gaps around your flooring at the edges.

Contact one of our specialist Hampshire based flooring companies for more information on the flooring types they can install.